LYNCH CREEK FARM
"Best Kept Secret" in Franklin County, North Carolina
---
♦ Dine with Us
Participate in an upscale Franklin BreadWorks Dining/Entertainment Event at Lynch Creek Farm.  For complete details, DOWNLOAD or SUBSCRIBE to our monthly BreadWorks and Bakery Newsletter. Upscale Sunday Afternoon Brunch and Lunch Buffet dining experiences to choose from. Seasonally, we have informal Outdoor Dining Events with Live Front Porch Music.  A portion of all proceeds benefit the Ben Franklin Society of North Carolina.  You can join the Ben Franklin Society of North Carolina as an Associate Member for $7.50 at the door.  We now process Online, New Society Membership and Annual Dues Renewals, with payment with most Credit and Debit Cards. Like and follow our "BreadWorks at Lynch Creek Farm Cabin" Facebook Page. Read our Raleigh News & Observer Award as the "Best Kept Secret in Franklin County" and our Review in the April-June Quarterly Issue of CIRCA Magazine. You can find the Links to these articles and more under our "About" Tab. You must come see for yourself, and bring a friend!
DOWNLOAD a PDF copy of our current
JANUARY BreadWorks and Bakery NEWSLETTER
Our electronic BreadWorks and Bakery Newsletter keeps you up-to-date with our monthly Calendar of Events, Society Project News and our monthly Online Bakery Schedule.  Subscribe to automatically receive an Email copy each month.
You can also download our Newsletter from www.BenFranklinSocietyNC.org and either of our Facebook Pages: "BEN FRANKLIN SOCIETY", "BreadWorks at Lynch Creek Farm Cabin" or "Bakery at Lynch Creek Farm"
♦ Buy Artisan Bread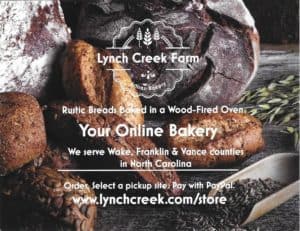 We opened our eCommerce Storefront in July 2018, so you can now purchase wood-fired oven, Artisan Breads. Just use our BAKERY Menu Tab above. It's easy to Order, either "Pay using PayPal" or "Pay by Credit Card", and then Pick-up your Order at a convenient Site that you select.
We will advertise on our Storefront which days we plan to Bake each month, order cut-off dates and product offerings. We plan to bake twice monthly, and if needed, once per week. You select a local Pick-up Site when placing your order. Our Pick-Up SITES initially will service Wake, Franklin and Vance counties in NC. We accept Payment either by using PayPal, or with your preferred Credit/Debit Card powered by SQUARE.
You will receive an Email Order confirmation from us. Your Payment Vendor will send Email Payment confirmations to you as well.
Try our delicious, hand-made Artisan Breads, baked in a wood-fired oven, unlike anything available in the area. Entrepreneurs, Marcia Klinder-Badgley and Bob Radcliffe, have teamed-up to make this venture a reality. Help us promote the Bakery, by sharing information about us with your family and friends!
♦ Receive our Newsletter
Our FREE Monthly Newsletter advertises upcoming Fund-raising Events and keeps you up-to-date with all Ben Franklin Society Project and Bakery activities.
♦ Hold a Meeting
We provide a unique meeting environment with all the technological amenities you need to stay connected and communicate your ideas and ample free parking. Indoors, we can comfortably handle up to sixteen people. Download our Tri-fold Brochure for complete details and view our YouTube Virtual Cabin Tour Video. Call us to make an appointment and see for yourself. Let us help make your event both effective and memorable.
DOWNLOAD a PDF copy of our
Log Cabin Meeting Center Tri-fold Brochure
TAKE a YouTUBE Virtual Tour of our Log Cabin.
Make an Appointment to see for yourself.
♦ Plan an Outdoor Event
Great location for special Business, Non-Profit, Civic, Church and School Events. Listen to our stream from a terraced landscape that can easily handle 100+ people.
We have all the amenities you will need including a wood-fired oven, large gas grill, traditional fireplace, refrigeration and more. Come see for yourself.

Checkout our video "BreadWorks Tomato Pies with Bob Radcliffe" on YouTUBE.
Also see Bob's "Tomato Pie, Rocky Ford, and Me" companion series of articles he wrote for Chef Peter Reinhart's website www.PizzaQuest.com
Outdoor "Tomato Pie and Cabin Front Porch Bluegrass Music" Events are our most popular BreadWorks Events! Plan to attend with a friend.
♦ Stage Your Wedding
We have begun making our Cabin Grounds available to photographers for Wedding Portraits. Below is a sample of two candidate shots taken by Coleman Photography, Raleigh, NC. Although we do not service weddings at our property, we would consider special Dinner Parties for groups of less than 36.
♦ Tour our Property
There's something fun and educational to do with your entire family – especially the children. You'll be pleasantly surprised as you explore our park-like – 55 acre farm – that is entirely in Conservation Easement with the Tar River Land Conservancy. We're just a 45-minute drive, northeast of Raleigh in Rocky Ford, NC (see Our "SITES" Tab to get Driving Directions).
We have also been featured in Diane Daniel's travel guidebook "Farm Fresh North Carolina"; the NC Department of Cultural Resources guidebook "Homegrown Handmade – Art Roads and Farm Trails"; and the Franklin County Arts Council (FCAC) Quilt Trails of the Tar River.
Please call and let us know you are planning to visit though – that's just country etiquette.
---
♦ CUSTOMER QUESTIONS & FEEDBACK ♦
---
---